As an excavation proceeds, all architectural features and installations—regardless of how small or fragmentary—are immediately plotted and drawn. The balks and cross-sections created during the course of excavation are also drawn, providing vertical plans linking the materials removed, the ever-changing horizontal planes and the architectural features and installations. By season's end, different phases or strata can be separated and a stratigraphic sequence established. The new discoveries of successive seasons are integrated with those of previous seasons. Then begins the process of interpreting the structures we have uncovered: are the buildings and spaces public or domestic, cultic or secular, for storage or consumption, planned or not?
Digital technology is the future for architectural and artifactual documentation, especially using what is called Geographical Information Systems (GIS). This will improve the access and archiving of information for analysis and publication. Architectural programs such as Autocad and Microstation allow more easily created and manipulated reconstructions from digitized plans. The archaeologist is able to place artifacts in their 3-dimensional architectural spaces, view interpretative constructs from various angles and finally present his or her best graphic interpretation of the ancient reality.
The NGSBA is in the process of digitizing our plan and section archive, mainly to facilitate the publication process. Moreover, since 2005 our surveying and drafting is mainly carried out using a total station. In the near future, we hope to move to the next level by utilizing the GIS platform (prospective partners welcome!).
Most of the pottery retrieved from the school's excavations is brought back to our restoration lab in Jerusalem. Each field supervisor selects pottery sherds from clear contexts that can be restored to complete vessels. These are the pots that reach museums and popular magazines. But restoration is not only about restoring pottery for display; it's also about tracing depositional processes–how and where the broken sherds moved after breakage. This can provide important information about the settlement's history.
Many of the objects we find in excavation are drawn. Certain features are better illustrated or emphasized by drawing, though the illustrator's interpretation then becomes part of the image. Pottery, in particular is drawn using conventions to highlight vessel profile and the potter's technique. In the near future we intend to draw much of our pottery digitally with the help of computers. This technique simplifies the manipulation of drawings, making enlarging, reducing, flipping and combined images easier to achieve. It also results in more durable, compact archiving and the linking of images into databases. One can actually give the command to see all the finds from a particular room, palace or tomb, or just one type of find from many different contexts.
Slide and Digital Image Archive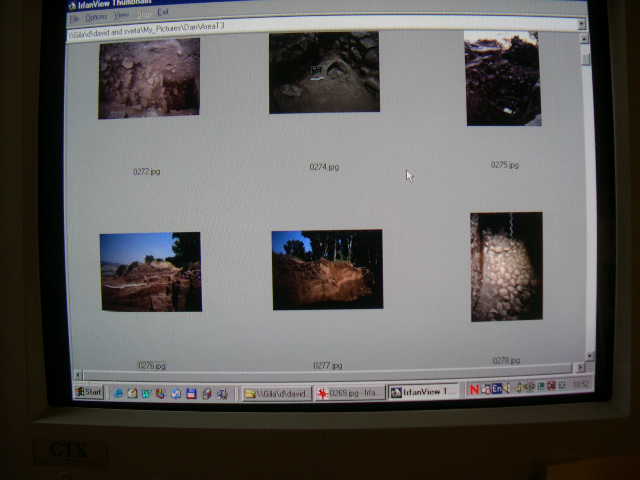 The school's archive contains nearly 4,000 images from Tels Dan, Aroer and Ira, in digital, print and transparency form. These images are used for public lectures and scientific presentations, in addition to their being a useful tool for stratigraphic analysis and typological illustration. We often find that color pictures contain information that black and white photos taken at the same time don't. In the publication of the future, many more color images will be included—either in an online or DVD format. We are presently in the process of cataloguing the archive with keywords to create a searchable index. Digital images, prints and slide transparencies will be available to interested parties for a fee or in exchange.
The initial scanning was executed at low resolution to facilitate easy storage and manipulation. These are already convenient for public presentations. Images for publication, once selected, can be scanned to much higher resolution.
Slide transparencies are stored in trays and numbered according to the sequence in the digital archive.
Black and white prints are stored in photo albums. One series contains field photos and another series contains images of artifacts. They are organized by site, excavation field and year.  These prints are now scanned and archived according to the organization of the albums. The next step will involve cataloging with keywords to enable topical searches. Again, high-resolution scans will be conducted for those items designated for publication or upon request.
To order prints or digital images contact:
Levana Zias,
972-2-6203257
ngsba@huc.edu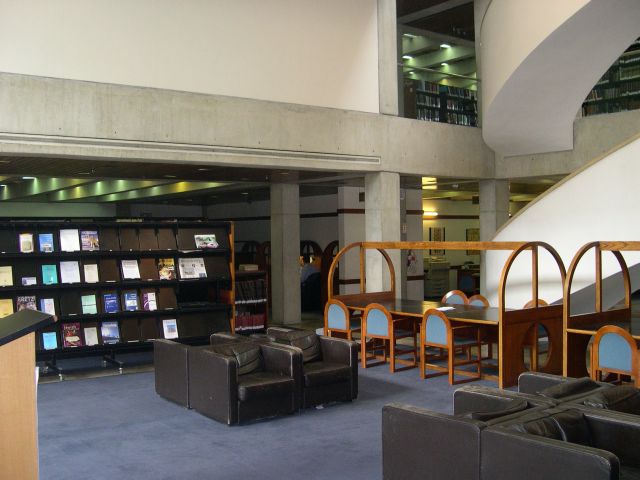 The NGSBA is served by the library of the Hebrew Union College Jerusalem campus.  Containing approximately 50,000 volumes, this library specializes in Jewish studies and archaeology.
Working Hours:
Monday – Thursday: 8:15 am – 4:45 pm
Friday – Saturday: Closed
Sunday: 8:15 am – 4:45 pm
Closed on National and Jewish holidays
For more information on the Jerusalem campus library click here.
The NGSBA maintains its own working library of approximately 600 volumes.  These are the books that get dirty.
The NGSBA study collection consists of four components:
Approximately 600 intact or complete objects (ceramics, metals and stone)  purchased from antiquities dealers by Nelson Glueck, G.E. Wright and later directors, primarily in the 1950s and 1960s.  These items are mainly from Israel/Palestine.
A total of 268 intact objects in the Nate and Marjorie Hess collection, donated to the NGSBA in 1986. Most of these items are displayed in vitrines.  The majority consists of objects originating in the lands neighboring Israel/Palestine (Cyprus, Syria, Lebanon, Syria, Egypt, etc.).
Material excavated in archaeological excavations and registered by the NGSBA since 1963.
Sherds curated from unstratified contexts from the various NGSBA excavations. This material comprises our sherd study collection. Most of the sherds derive from Gezer, Dan and Aroer.  This material is in need of reorganization and cataloguing.
These objects can be studied by scholars and students by appointment.
Rent our Facilities (or institutional cooperation)
The Nelson Glueck School of Biblical Archaeology maintains a large facility in the center of Jerusalem, next to both the old and new cities and near the various international research institutions: the American Schools of Oriental Research Albright Institute, Ecole Biblique and the British School. The Hebrew University is a 10 minute drive away. Numerous hotels, hostels and restaurants populate the area and the upscale Beit Shmuel guesthouse is right on campus. The campus itself has two cafeterias.
We offer large storage spaces, offices, classrooms, labs, professional personnel, excavation equipment and a library with large archaeology and Jewish studies collections. These facilities and personnel can be hired for a negotiated fee. We also work with the field archaeology firm Y.G. Archaeology, which provides consultancy, survey and excavation services.
Most of all, we are uniquely positioned to produce academic study programs that include multidisciplinary curriculum—archaeology, bible, modern and biblical Hebrew, history and geography. These can be short "mini-courses" or semester long programs. We have extensive teaching and experience and a large variety of field trips can be arranged. For a sample curriculum click here.
We can provide the following archaeological service
salvage excavation
archaeological survey
pottery restoration
object illustration (digital and hand drawn)
storage
data processing and commissioned research
academic publication
lectures (at HUC Jerusalem or off-campus)
field trips
integrated educational programs
consultancy and project facilitation
For more information or to schedule a meeting contact: Levana Zias (+972)-2-6203257.