From its inception in 1986, the museum was conceived of as a showcase for the archaeological work of the the Nelson Glueck School. On display in the downstairs gallery are models and artifacts from the school's premier project, the Tel Dan excavations. The exhibit is organized thematically (rather than chronologically): the dig camp experience, religious belief and cult practice, burial behavior, gates and fortifications and the saga of the Israelite Settlement. The upstairs gallery contains models and objects from Tel Gezer, Tel Aroer and Tel Ira—the latter two in the Negev desert. The museum is widely considered a jewel of design and conception, being both aesthetic and "user-friendly".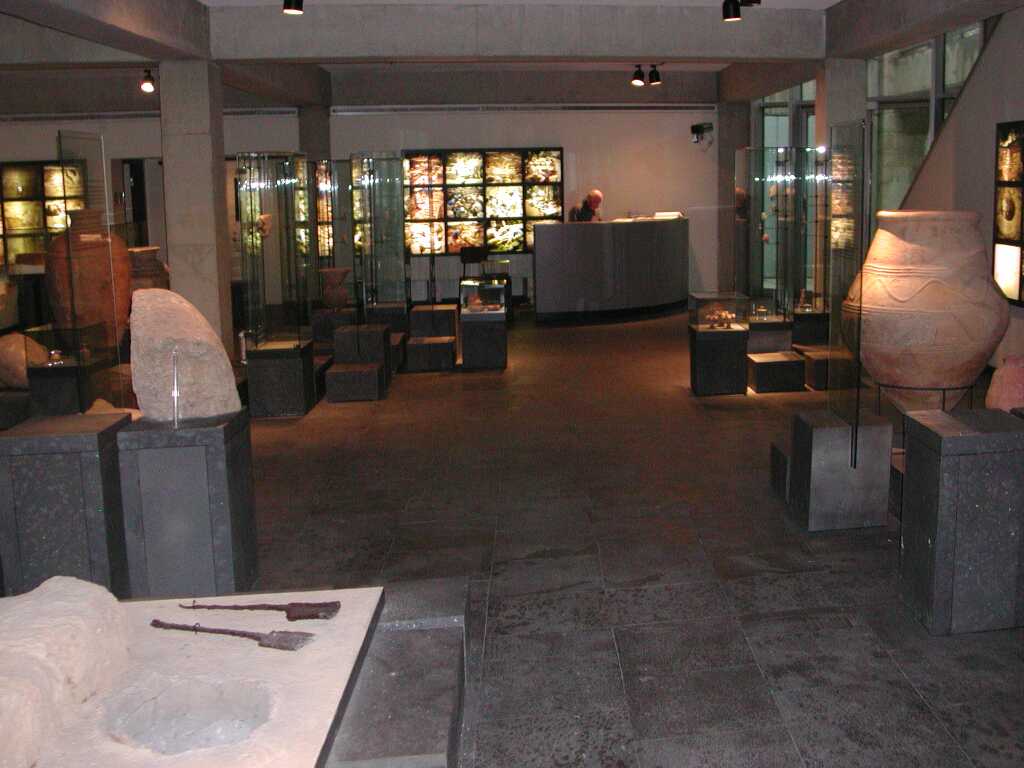 Visiting Hours: By appointment
For information call: +972-2-6203257
The museum was designed (by architect Moshe Safdie, graphic designer Dorit Harel and curator Dalia Pakman) with the natural setting of Tel Dan in mind. The floor and stands are fashioned of the northeastern Galilee's native basalt, lending the exhibit a unique atmoshpere. The musuem interior looking toward the entrance. As an indicator of Tel Dan's major building material, basalt was used for the floor and for pedestals.
Our own timeline at the Nelson Glueck School continues and many new and significant discoveries have been made since the Skirball Museum was inaugurated. These should also find expression in the museum's display. Aside from a copy of the now-famous "House of David" inscription recently mounted, we have plans to expand the archaeological garden to exhibit architectural elements of special interest.
In order to supplement what is an essentially static exhibit, we have plans to create a multimedia presentation where visitors of all ages will be able to use interactive, digital technology to probe deeper into the secrets of the archaeological sites and objects included in the museum's exhibit. This presentation will include graphic reconstructions of archaeological strata, buildings and objects, and material for investigating connections to other sites and other cultures.
We welcome visitors and especially groups, who can arrange for a 45 minute tour. The museum hosts school children and youth groups frequently.